RichFaces Downloads. It is highly recommended to use the latest stable releases as each release contains many bug fixes, features, and updates. Enhance your JSF web applications using powerful AJAX components Build a new RichFaces JSF project in minutes using JBoss RichFaces with JBoss Seam . JBoss RichFaces [Demetrio Filocamo] on *FREE* shipping on qualifying offers. This is a practical tutorial following the use of RichFaces in a.
| | |
| --- | --- |
| Author: | Taugar Melar |
| Country: | Lithuania |
| Language: | English (Spanish) |
| Genre: | Photos |
| Published (Last): | 16 April 2016 |
| Pages: | 60 |
| PDF File Size: | 11.21 Mb |
| ePub File Size: | 2.2 Mb |
| ISBN: | 924-5-31251-220-5 |
| Downloads: | 95466 |
| Price: | Free* [*Free Regsitration Required] |
| Uploader: | Zutaur |
Once created you need to add a set of libraries to your Jboes Project. Especially if there is no existing sample of a valid do state object that can be tampered with. While the injection of arbitrary EL expressions was possible right from the beginning, there is always a need to get them triggered somehow. However, exploitation of this vulnerability is not always that easy.
Stay ahead with the world's most comprehensive richfacees and business learning platform. Step 3 Add libraries to your Web Project A Richfaces project needs a set of core libraries plus a few dependancies which needs to be downloaded.
As we can't expect official patches, one way to mitigate all these vulnerabilities is to block requests to the concerned URLs:. Related articles available on mastertheboss. Do you wish to eliminate the time involved in writing JavaScript code and managing JavaScript-compatibility between browsers to build an AJAX web application quickly?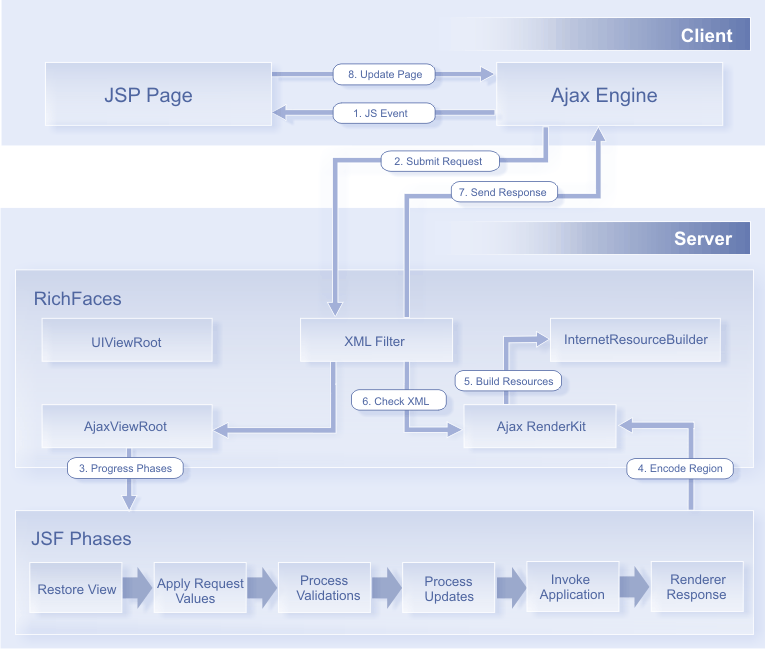 View table of contents. You will learn how to create and customize your own components and add them to your new or existing applications. A Richfaces Web application needs of course a Web project. The Application What we are going to develop?
All these components will help you create the web site you always imagined. This similarity was found in the org. MediaOutputResource allows remote code execution.
In case of discovering a serious issue you will have to develop a patch yourself or switch to another framework. Because if one would want to create the state object, it would require the use of compatible libraries, otherwise the deserialization may fail. Start Free Trial No credit card required. Posted by Markus Wulftange at 3: Arbitrary Java Deserialization This vulnerability richfacea a straight forward Java deserialization vulnerability.
The interesting thing about these classes is that they have a equals Object method, which eventually calls getType ELContext on a EL value expression. EL exploitation is quite an interesting topic in itself. The latest releases of the respective branches are 3. This would prevent the invocation of methods with parameters like loadClass "java. ResourceBuilderImpl allows remote code execution. VariableMapperImpl were added in 4.
This passes the whitelisting as ImageData extends org. Depending on the EL implementation, this allows arbitrary code execution, as demonstrated by the reporter:.
RichFaces 3.3.3 Developer Guide
As you progress through the book, you will see a sample application that shows you how to build an advanced contact manager. This is very similar to the Myfaces1 and Myfaces2 gadgets in ysoserial.
Richfaces In nboss tutorial we will. It will show you how to get the most out of JBoss RichFaces by explaining the key components and how you can use them to enhance your applications. The Present The kind of the past vulnerabilities led to the assumption that there may be a way to bypass the mitigations. The RichFaces issue RF corresponding to this vulnerability is public and actually quite detailed.
RichFaces Source Code – JBoss Community
You're also going to be amazed to know about the advanced topics you will learn like developing new components, new skins, optimizing a web application, inserting components dynamically using Java instead of XHTML, and using JavaScript to manage components. But if you are fimilar with EL internals, you would know that they can have custom function mappers and variable mappers, which are used by the ELResolver to resolve functions i.
It uses many examples of AJAX components which, among others, include: Tested on JBoss 5. X You are adviced to read this tutorial at first if you don't have any notion about RichFaces, otherwise just go on reading. This can speed up your Project creation by adding the required configuration files to your project.
This can be exploited with ysoserial using a suitable gadget. ValueBinding is not whitelisted. Thereby, all RichFaces versions including the latest jbboss. Unfortunately, this gadget does not work for RichFaces. This includes the contentProducer field, which is expected to be a MethodExpression object. That method then decodes and decompresses the data in a similar way and finally deserializes it without any further validation. Although the issues RF and RF were discovered in the order of their identifier, we'll jnoss them in the opposite order.
This book is more than a reference with component example code: Tags GadgetVulnerability Details. May 30, Poor RichFaces.